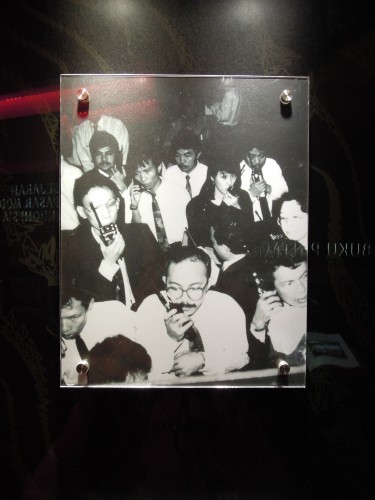 Old photo of Walkie Talkie traders in Jakartan stock exchange – mobile roots of Indonesia
—
MoMoBKK visited Jakarta in mid-November.
Our colleagues in Mobile Monday Jakarta had their 5th anniversary, MoMoBKK crew flew in to share a few insights about Thailand and Thai technology environment to local technology leaders.
Indonesia is a vast country of over 20,000 islands hosting around 250 million people. Country's economic growth mostly come out from businesses which rely on commodities and basic industries like manufacturing and farming.
On technology side, last known internet usage estimates are from the year 2011, ITU estimate that Indonesia had 55 million internet users. Few other stats about Indonesia;
According to Social Bakers, Indonesian digital market size is 4th largest in the world, this is around around 20% of the entire human population
According to MarkPlus study Indonesia holds about 13 percent share of all tweets in the world
Indonesia has over 220 million mobile phones
Indonesia is world's 3rd largest mobile advertising market.
Indonesia is a great prospect for any mobile enabled company who is thinking of expansion. This is mainly due to the massive mobile population who are moving from old featured phones to the latest internet enabled smart phones.
Sitting in Jakarta traffic is not a great experience, but gives you a good insight into pace of growth and challenges that this growth presents for the local infrastructure. List of upcoming Indonesian web, social and mobile companies are M-Saku, Mindtalk, Touch Ten Games, KARK Games and RUMA. Local startup ecosystem is still evolving and beginning of its journey, with few incubators and co-working spaces. Singapore's influence on it's neighbor is visible, and there are a lot of business traffic between these two countries. Singaporean companies are by far largest investor in Indonesia in the world.
With such a brief visit, Indonesia feels very much like Thailand in terms of technology scene. It is hard to see big differences in consumer behavior (endless shopping malls, markets, etc) or in local startup ideas. Any successful technology company in Thailand, should consider Indonesia as an option for expansion. Before entering this new market, remember to do your research on Indonesian market and culture, and understand if there is a fit. Mobile Monday Jakarta is a good place to start exploring Indonesia tech scene.
Mobile Monday Jakarta itself is a very popular event and a great place to meet local mobile and technology influencers. Organizers (Andy Zain and his team) are doing great job in connecting leading technology, media and telecom players, including startups.
Our trip to was very brief this time. In the future we hope to have more coverage on Indonesian companies and industry. Perhaps we also try have a successful Indonesian Technology company present in MoMoBKK. Stay tuned.
Story by Ville Kulmala
Some random photos of our short visit below:











Share this: