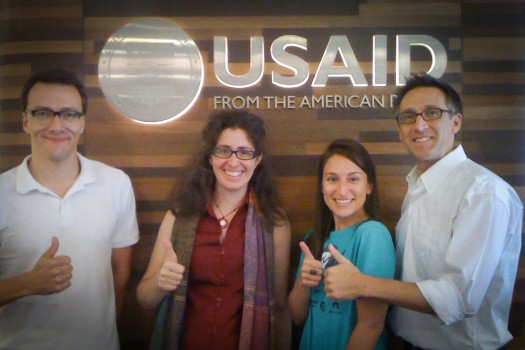 With the help of Mobile Monday Bangkok, USAID recently held the final round of its Thai University Students with Solutions competition for mobile app development at Digital Gateway Siam.
The final round of the competition seeded teams from Srinakharinwirot, Thammasat, KMUTT, and KMITL universities, all of which created innovative applications that addressed different development challenges specific to the region such as disaster preparation and response and deforestation reduction.
Team Optimo from KMUTT was awarded the grand prize of 50,000 baht from US Ambassador Kristie Kenney. The KMUTT team developed a location-based app that enables users to measure and share flood information about water levels by taking a photograph of referenced objects. The flood level and location information can then be shared and mapped enabling others to avoid areas of flooding.
Possible continuation of the competition will be determined next year with the potential expansion to include additional universities.
Share this: