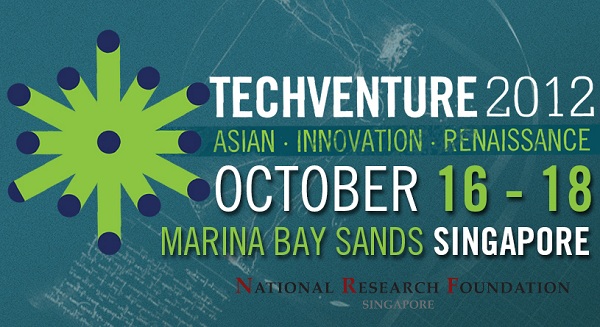 Techventure is a conference, which has been going on for 16 years, and attracted over 600 successful entrepreneurs, corporate chiefs of ICT and biotech corporations, wealthy high-tech founders, high net worth individuals from the technology, venture capital and private equity community, according to NRF Singapore. The conference in Singapore will take place from Oct 16-18 at the Marina Bay Sands Expo and Convention Center.
See here for full program and speaker list
This year's theme is 'Asian. Innovation. Renaissance'. This year's theme celebrates the vibrant developments taking place in Asia that have helped corporations here take the lead and capitalize successfully in many areas of technology.
Techventure 2012 will be launched by Singapore's Deputy Prime Minister and NRF Singapore chairman Teo Chee Hean. Speakers at the event include Russel Simmons, Co-founder of Yelp; Gary Wang, Founder and CEO of Tudou; Tan Ming Liang, CEO of Razer; Olivia Lum, group CEO at Hyflux Ltd; and Joe Lonsdale, Forbes 30 under 30 list for technology. Two new partners – TechInnovation 2012 and Failcon Singapore – will make their debut this year.
Mobile Monday Thailand has negotiated member price of S$1198 instead of S$1900 (all prices in Singapore Dollars). Register using promotional code "ASTV3008", under registration link: https://tickets.eventclique.com/techventure
Share this: